I guess my inspiration for radio started off in 1996/97 when my mother was listening to Radio Ramadhan on Asian Sound Radio. I was quite fascinated about the whole thing, how the announcer speaks, then comes a track, commercials and so on.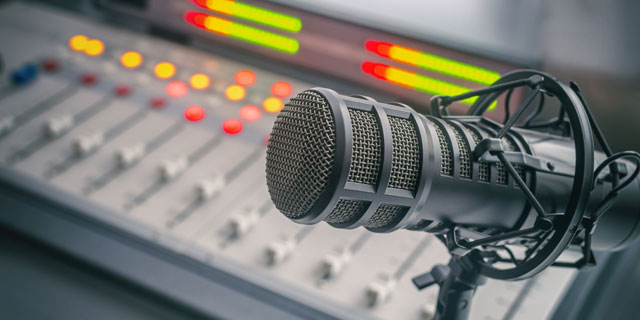 Ever since presenting my first show on Ramadhan Radio in 2002, and the positive feedback it followed, I've never looked back! and continued presenting my own shows in 2003, 2004, 2006 and 2008 and even landed working for BBC Radio Lancashire presenting the 'whats on' guide!
Sadly, there has been no consistent radio platform since 2008, but even today in 2022 my passion for it is still undiminished!
As a person, I have never been loud or boisterous, in fact, in school, I was known as quiet, and still probably am, but set me up a radio station, and I would probably talk on it all day!
Nonetheless, I am grateful to my community Radio broadcasters who give me the opportunity to host my own shows, and make an exhibition of my interest.
---
LISTENER COMMENTS
Looking back, I didn't realise how much the shows I presented, meant to some people, as not only did they find it entertaining but educational.
What's more gratifying , is that it cheered up the listeners one way or another or put a smile on their face, and in return for the shows, they prayed for me! What more can I ask for?
---
salam brother maqbul.
i have to say that you do a relly good job with that show 1st thing in the morning.
you really wake me up for the rest of the long tiring day ahead of me. and the laughing sound effect that comes after the joke always makes me laugh.>

itl b a shame when ramzan is over and there you wont be around to make me laugh when i feel so lost in the mornings.
keep up the funny work!
---
Maqbul i really enjoyed your late night shows, but unfortunately i was not with you untill i grilled my morning toast!!!!!
but…… not to worry, i recoreded all your shows and they are just sooo cool and funny, you made my ramzaan so lively and exciting,
---
the best show i liked was when you had the Pizza show, which i listen to almost everyday, and it makes my day, there's times when i am on my own driving and i am listening to that particular show and i am laughing, then i realise people around me looking at me thinking…..has she lost it!!!!!
i would love to call in and speak to you guys, but i could not just pluck up the courage to call in.
---
A poem which I made specially for you.
There are so many presenters but the way you PRESENT
Is like the sky full of stars but only one CRESENT
The quick quiz question is something only rizwan can give a MENTION
The late night show is like the dark night with only one GLOW
The childrens naat competition is FANTASTIC
Until riz starts acting BLISTIK
---
Wel it was definetly nice 2 hear ure cheery voice after yestrday neway as a mature listner its quite surprising im hooked with ure shw i heard ure advice on GRAPES,HONEY etc nemore tips would b apreciated THNX salams
---
Gr8 shw hav u thote about teachin in primary ud make an xcelent aset 2 a scool were lackin male teachers in scools just a thote! Neway gr8 shw keep it up!
---
Salaam Brother,

I just want to say how much i enjoy your shows in the morning….and how i look forward to hear the hadith of the day i have learnt so much from your show …Alhumdulillah…. i pray ALLAH rewards you and accept all your duas…AMEEN

i must say i am going to miss your show very much. i hope you get to do it again next year, inshallah
---
Salaams
I'd just like to say that you do a brilliant job on the show. The kids
couldnt hav got a better presenter. Keep up with the gujarati and the jokes.

Could you please try not to miss too many days cos it can get boring with other presenters. No offence to them of course. .
Thankyou
---
.. i could not bear to hear your programme from yesterday, as i could not hold my tears back, i still recorded the programme, but was not there with yourselves, why do you have to say bye, why cant we have a programme like this all year around?
if i was asked what i am going to miss about Radio Ramadaan, its gotta be Maqbul picking on Riz and also Maqbul's giggles and asking Riz to start the Show off (Show Off). Maqbul you sound so sweet when you speak Urdu, and your Gujrati is Lmost perfect,
Maqbul you have got a great sense of humour, keep it up and keep smiling, enshallah i will look forward to hearing from you and your partner Rizwaan next Ramadaan, and you betta be there, in the meantime, whenever i miss Radio Ramadaan i have all Maqbul and Ridwaan programmes recoreded, therefore i will keep myself occupied with them until next Raamdaan.
Eid Mubarak to everyone at Radio Ramadaan and i will miss u all, i will remember you all in my duaas, keep smilng, enshallah Allah will give you all, every success in life and fulfil all your hopes and desires, and thanx once again,
---
I really enjoyed listening to radio ramadaan, especially the children's programme, although am not a kid no more i enjoyed it more than any other programme, actually i only tuned in to listen to the Maqbul & Ridwaan Show.
Mashallah Maqbul and Rizwaan both presented the show really well, (Maqbul was a bit betta than Rizwan)only joking.
I would like to thankyou all at Radio Ramadaan, for such a great time in Ramadaan, i will miss u all and will always remeber you all in my duaas.
keep up the good work guys, you did really well, mashallah.
By the way, your presenting on Radio ramadhan was great.
---
We were just listening to ur late night show, so we thought we should email……as its the last show. We have to say that its been mashallah great listening to you all both in the late night show and the children show…….
Oh no! we've just heard that this maybe ur last show due to change in schedule!!!

Anyways, congrats to u in presenting such a fab show. we've really enjoyed ourselves, especially ur jokes……….man, u're funny!….. .really loved ur joke about the "burgers" – "gerbur!"

Inshallah, yourself will be with us next Ramzan.

---
RADIO SHOWS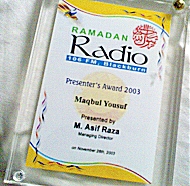 Rush Hour – Show 1
Description: Quiz, hadith, website of the day, stories of the Prophets, words of wisdom, humour!
Rush Hour – Show 2
Description: Quiz, hadith, website of the day, stories of the Prophets, words of wisdom, humour!
---
Register your interest and I'll let you know when a new show is live or published!
For feedback, please email: